HI Speed 808 Training
Performing Arts Program
Polynesian Cultural Arts
SSAT/SAT/ACT Test Preparation
Senior Volunteer Program

The organization offers multiple after-school services that focuses on athletic skills development training HI Speed 808 Training (Speed, Quickness & Resistance Training) combined with other array of programs in the Performing Arts ( i.e., Theatre, Drama, Acting, Voice, Dance ) and Polynesian Cultural Arts ( i.e. Hula, Chant, Song, Dance, History, Protocol ). In addition, the organization sets a high priority in Academic achievement. All teachers are highly qualified to teach in our programs. The need for a multi-faceted approach is based on various and on-going meetings with local and federal government leaders, religious leaders, community activists, at-risk youth counselors and professionals in the special needs community, as well as others who believe in our philosophy.

The term 'Liahona' is a guiding principle for the company and its corporate philosophy. The trans-literal meaning of the word 'Liahona' refers to a holistic approach or direction, based on personal empowerment through proper physical, spiritual, and life skills training designed to support special needs and at-risk youth - to help them develop and nurture their inner strengths, self-esteem, confidence, and humility.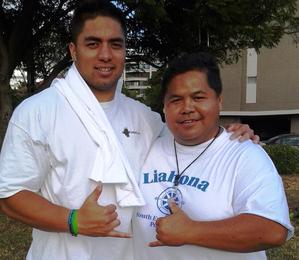 Goals for the Organization


To have a supervised environment where youths will have the opportunity to exercise their minds and bodies and learn good health, sportsmanship, and nutrition as well as how to be good community members.

To promote life changes for the community youths by bringing better health, hope, and caring to the children and youths in the community.

To offer community youths mentorship and positive role models.

Communicate timely and helpful information to our members and community regarding health and fitness.

Increase our youths' strength, conditioning, motor skills, vocational skills and confidence by offering a variety of programs for life enrichment.

Offer periodic Coaches Clinic to improve expertise for our schools coaches and assistants. This will begin on Oahu and spread to the neighbor islands and the mainland.

Offer programs for awareness of the dangers of drug, alcohol and tobacco as well as anger management classes.